Friday Stitch Day update: October 15, 2021
Posted On October 15, 2021
We have a finish! Well, a couple, but let's work big to little: I buckled down and wove in the ends on the "Pretty Maids" by Joyce Fassbender shawl that I mentioned last week.
Then I buckled down and wet-blocked it to really finish it and get it stretched out to the final dimensions and show up the lace patterns:
UPDATE: I had said before I didn't know what yarn it was, but I found the label in a drawer:
I got the foam mats from Walmart, lol… two packs of 9 12″ mats for $13/pack, instead of the "blocking mats" of the same material sold on Amazon for three times that. (Or more.)
Yeah… naw, not paying that much. Even if they do have nifty square inch grids. I also just used sewing pins rather than ordering blocking comb pins or whatever.
I've blocked scarves and sweaters before and usually just do those on fresh dry towels, but I kinda like these mats, and of course for lacework it has to be pinned. With 18 of these mats, I'll have lots of flexibility for future lace blocking.
In other knitting this week, I got a small amount done on the Wassailing Stole by Courtney Spainhower:
Pretty similar to last week's photo of this, but I swear I did actually work on it. A little.
Nori also looks kinda similar, but it is slowly growing just like the Wassailing Stole:
I still haven't even looked at the other two knitting WIPs I mentioned finding last week.
What else… I tried to pin baste a lap quilt on the same floor I blocked the shawl on, but I didn't have enough clear space to accommodate it and kept getting tucks and whatnot on the backing, so I set it aside. I'll have to either clear off the dining room table and try to do it section by section there or I'll have to take it to my dad's house and pin it on the living room floor, which is big and open.
I forgot to take pics, but hey, it ain't actually basted so whatever.
I also dyed 8 pieces of 22-count aida dyed that I picked up at Michael's, but didn't take pics of that either.
On to cross-stitch…
Friday's flora and fauna theme had me getting a length of thread into "The Birds & the Bees" by Carriage House Samplings:
Same as last week except the branch is just a wee bit thicker.
I got a bit more done on Saturday's stars and stripes theme, currently represented by Tiny Modernist's "Land of the Free":
I'd been debating adding a darker and a lighter red since the pattern only has one medium red (that I put on "Free") but a variety of blues, and I decided to go for it, which meant I ripped out the red star and redid it with the darker red.
For Sunday's sampler theme, I'm making headway on the columns on Moira Blackburn Samplers' "Don't Worry Spiders":
I'd forgotten that I'd substituted a brighter pink for the lightest one called for in the pattern, and hadn't written it down, so I had to go through my floss to find the right one to match it in order to mirror the aqua in the column (which is a cream color in the actual pattern, but that just disappears on my fabric, as I mentioned before).
Anyway, so here's the colors I'll use in the pillars. All are called for elsewhere in the pattern, except the lighter pink is a substitution:
Next up on "Merry Monday", work continued on the 2018 Santa by Prairie Schooler:
I also found a piece from some old Just Cross-Stitch Christmas ornament special issue that needs only some backstitching and a bit of fuzzy white trim on the hat, so next week maybe I'll take that on so it will be finished:
It's by Dragon Dreams and I think this one's been languishing in its current state for 2 years, lol…
Undyed 14-count aida, which I never use these days, and it's massive (for me/my Christmas trees), so I probably won't finish it as an ornament. Instead, I might sew on some quilting fabric and turn it into a Christmas wall-hanging or something of the like.
Moving on, Tuesday's "trivial" theme brought a finish on The Primitive Hare's "Imbolc":
As always, I did some color swapping. Since this is the last post of it (until I FFO this along with a whole other stack of finishes that will probably wait til next year after I move to actually get FFO'd), let's go over them:
Sheep filling: one strand of DMC B5200 and one strand of 4145
Fence: DMC 4000
Greens: DMC 4066 (and the border was I think black in the actual pattern
Snow and lettering: DMC 4220
I skipped the backstitching on the snowflakes because, on this floppy 28-count Irish linen, I just couldn't get it to lie flat and not look like a mess. Chalk that up to user error on my part, but oh well.
And as I mentioned before, I hand-dyed this linen myself.
So now I needed a new Tuesday thing. BTW, "trivial" here is a size reference, I think originally it was supposed to be less than 75 stitches in either dimension and a pattern that didn't fit in any other theme.
Thing is, I kinda have run out of those patterns. And the ones I have tend to be things in series where I might stitch them all together on a bigger piece of fabric (eg, I think I have all of "Frosty Forest" by Country Cottage Needleworks, but that's kinda a Christmas theme for me since I don't do separate "winter" decorating, and if I stitch them all together then it's way bigger than 75×75).
And I have a ton of small Halloween patterns but again, then that's the Witchy Wednesday.
So… I debated swapping the theme, maybe to Valentines, but for now I figured I'll just expand to 100×100 so long as they're not too heavy on the coverage. And then I couldn't decide between 2 patterns fitting in there, so I have two starts this week.
First up, "Refuse to Sink" by Hands On Design:
Normally I hate slogans in my stitching (ditto any decor that isn't Christmas or Halloween, and I avoid what Paul Fussell called "legible clothing" like the plague other than a few treasured rock shirts… which I pretty much only wear around the house or when working out…), but there are times I make exceptions, and this is one of them. Plus it's a kinda appropriate motto for my life.
Anyway, the fabric is 18-count aida that I dyed. And I only had one of the fancy floss colors that the pattern calls for, but I liked the variegation so I found some substitutions in variegated DMC that I will use instead. I think I'll just list them when I have it finished like I just did for "Imbolc."
Technically this is more appropriate for Tropical Thursdays since I include anything beach and ocean-related in that theme, so it might get shifted over to Thursdays in a couple weeks or whenever I finish the current piece for that theme, since I'm getting closer.
The other new start would technically fit more with Friday's flora & fauna theme, and might likewise shift… not that I'll be finished The Birds & the Bees any time soon, but if I get despaired of ever finishing something for the Friday theme, I might well swap over to this one for a break: Blackbird Designs' "It's Spring Fever":
22-count aida that I of course dyed. Not gonna do any color substitutions on this one despite it being mostly greys, I figure the background has enough color and the contrast is interesting.
But yeah… I have a couple Valentine's sorta patterns I'm itching to start, so Tuesday might swap to that theme eventually.
Anyway, Witchy Wednesday had me finishing up a motif on Lila's Studio's "Halloween Quaker" and starting a tree in the bottom left(-ish) area:
Funny story… that lower left corner has a little neighborhood in it… which I already stitched… and then learned I screwed up the counting so it was going to run into something else, so I ripped that stuff all out.
GAH!!!!
Anyway, it's nice to get back to working on that corner.
But this is one, like The Birds & the Bees, that I think I'll need a break from in a couple weeks for some semi-instant gratification from some smaller Halloween pieces that I can get finished sooner before returning to Halloween Quaker again.
Thursday's tropical theme is chugging along nicely with By The Bay Needleart's "Blue Hawaiian Garden":
I think I might actually have a finish by Halloween on this one… maybe…
I did get a bit done on Satsuma Street's "Pretty Little Los Angeles":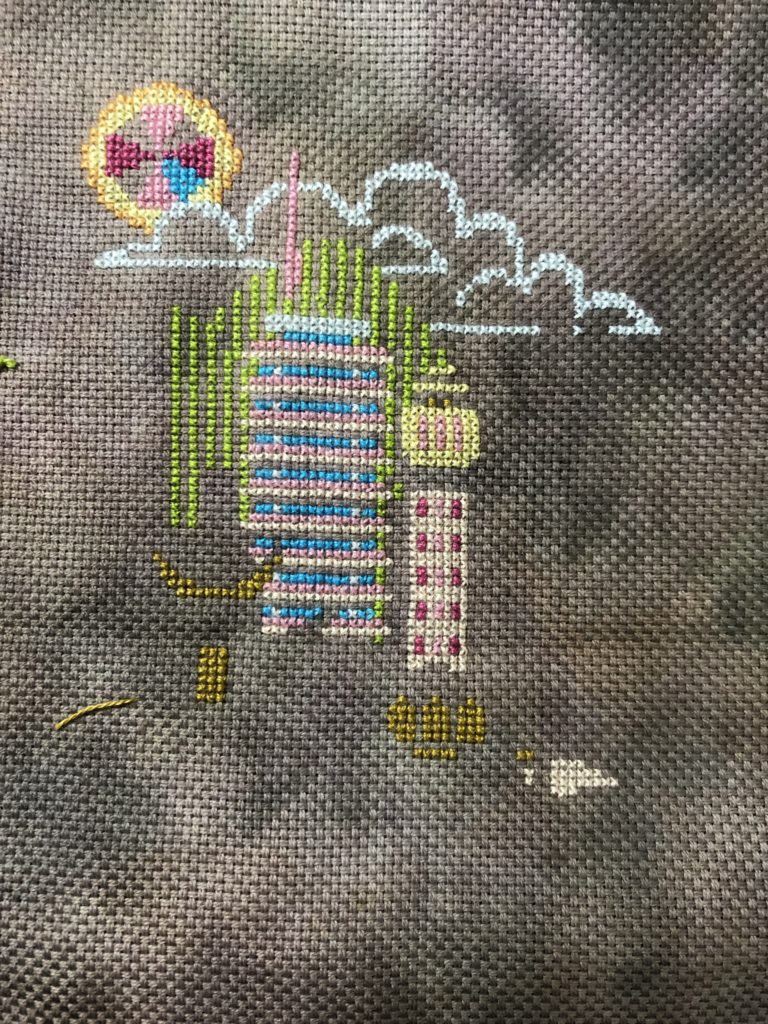 I screwed up some counting and had to rip out the bottom of the building on the right… and the palm tree trunks I counted from what I counted wrong. Oh well, it happens.
Lastly, I can't crochet, but I'm thinking I should learn because reasons.
Anyway, I bought the pattern for my collection, we'll see when or if I ever get around to it.